Sale!
Tropical Sundae – iPhone 7 / 8 Plus Eco-Friendly Case
Beautifully designed and Eco-friendly, A Green Co. cases are the world's first true sustainable alternative to plastic phone cases. They are durable enough to protect your phone from drops and scratches and are also 100% compostable! As part of our mission to create a waste free future, A Green Co. plants 2 trees for every phone case sold for a better future for our planet.
₹1,099.00
Out of stock
Description
Protect your smartphone while helping the environment. We made this iPhone 7/8 plus case from plants!
Sustainably Sourced: The material used for our Eco-Friendly iPhone 7/8 plus case comes from Wheat Straw. Wheat straw is the stalk left over after harvesting the wheat grains for consumption. It provides strength, natural shock absorbent qualities, and a unique look to each case. Moreover, it is 100% Biodegradable and Compostable iphone 7/8 plus case.
Eco-Friendly Engraving: We only use Laser Engraving to brand our cases. Thus, we can avoid any synthetic and harmful inks, colors etc. completely.
Responsibility towards Mother Nature: By using Wheat Straw in our case, we are able to provide farmers with a way to sell their Wheat straw. So, instead of burning it, we have created a practical and aesthetic use for it.
Protection for your Smartphone: Made with Wheat Straw, this phone case provides amazing protection from drops and scratches. This is due to the natural shock absorption properties of Wheat Straw.
We ship No Plastic: We ship out every product in the least amount of packaging required to get the items to you safely and securely. No more, no less. And definitely No Plastic. 
Design Features: 
1. Smooth and flexible Design – Soft to touch and flexible without adding extra bulk to your phone. So, our minimalistic design will pleasantly surprise you.
2. This case is compatible with any wireless charger.
3. Special design for camera lens protection – It prevents the lens from directly touching the surface below when you put your phone down.
Additional information
| | |
| --- | --- |
| Weight | 0.1 kg |
| Dimensions | 18 × 10 × 3 cm |
OUR GUARANTEES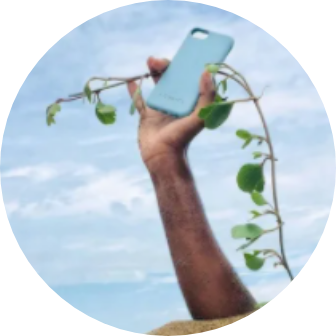 Protects our Planet
A Green Co. ensures that every case we make is 100% Natural and Eco-Friendly. Every case sold = less plastic in our Environment.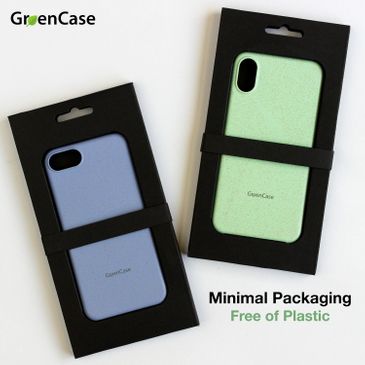 Plastic Free Packaging
We send out our products in packaging that is completely plastic free, and just enough for the case to reach you safely. No more, No less.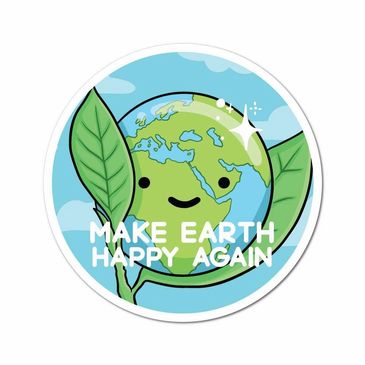 100% Happiness Guarantee
Enjoy free shipping nationwide, fast and secure checkout, and hassle-free exchange and returns.
---
Specifics
01

What Is It Made Of?

A Green Co. manufactures its Eco-Friendly phone cases fom Wheat Straw + a bio based polymer, that is derived from annually renewable plant sources. Our material has been tested to be safe and free of phthalates, BPA, cadmium and lead and is verified to meet child safety standards.

Our material is completely recyclable with no degradation in quality and has a lower carbon footprint and lower greenhouse gas emissions than traditional plastic.

It returns to the nature, right back to where it comes from.

02

How Does It Feel?

Soft, Flexible and SMOOTH to touch is how A Green Co.'s cases can be described. Apart from being able to protect your phone and preserve the planet, the next most important thing is how a case feels in your hands!

It even has a faint sweet smell of Wheat Straw, from which it is made.

03

How Well Does It Protect?

Every phone case, be it eco-friendly or not, NEEDS to also protect your mobile phone from drops and shocks…otherwise what's the point?

A Green Co. phone covers have been tested to beyond your average phone drop out of your hand, so you can rest assured that the job of a phone case is still getting done.

04

How Does It Ship?

At A Green Co., we take pride in ourselves on FREE shipping all over India. However, what we really stand for is minimal plastic-free packaging. Every product that ships out goes out in the minimum amount of packaging required to get the items to their destination safely and securely. No more, no less.

05

Does It Fit Well?

Laboriously and scientifically designed Cell phone cases to protect your phone from drops and scratches as well as any traditional plastic case.

Precision cuts around speakers, charger, volume and power buttons.

Naturally Stain Resistant, and Fingerprint and Smudge proof.

Smooth to the touch, flexible with no extra bulk.

06

Know More

To learn about A Green Co., our Story and Mission, the Material for our phone covers, or further questions. Click Here: